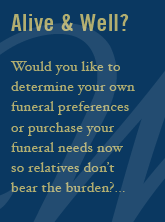 Personalization
Wilbert offers multiple ways to personalize a burial vault or urn vault with words, symbols, and images that speak of a singular spirit. Your loved one had a unique personality. The selections you make for the visitation and service should communicate that singular spirit. These choices ensure your loved one's memory is remembered for generations to come.
Wilbert Greenville Hosts Cookout for Funeral Directors Who Participated in an Online Ordering Contest
Wilbert Burial Vault of Greenville's Boyd Anderson Elected President of Wilbert Manufacturers Association Board of Directors.
February 7, 2013 (Greenville, SC) – Wilbert Burial Vault of Greenville – operating in ten upstate counties since 1947 – announced today that its CEO Boyd Anderson has been named as president of the Wilbert Manufacturers Association (WMA) Board of Directors. The WMA is comprised of more than 200 licensees and an additional 150 sub-licensees and distributors representing 10 districts across the United States and Canada. Read More.

Local Wilbert Licensee Provides Excellent Service to Funeral Homes in 10 Counties across Upstate SC.
October 2012 (Greenville, SC) – Wilbert Burial Vault of Greenville announced today that it has been awarded Ultimate Service Provider from Wilbert Funeral Services Inc. for the seventh consecutive year. The Ultimate Service Provider is the highest service honor possible for Wilbert licensees and is earned by passing rigorous on-site inspections in manufacturing and service. Servicing funeral homes and cemeteries in 10 counties across upstate SC, Wilbert Burial Vault of Greenville demonstrated superior service performance, professionalism, and utilization of product personalization. Read More.