Wilbert Burial Vault of Greenville offers burial services to 10 counties in upstate South Carolina, catering to the needs of families through funeral home professionals. Products include burial vaults and cremation urns, as well as keepsakes, memorialization, and mementos. In addition to burial personalization options, Wilbert Vault of Greenville offers services for set up, tent, chairs, grave digging, and relocation/transfer. The Greenville franchise opened for business in 1947. more >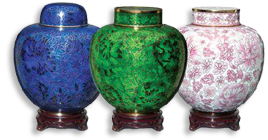 Cremation Urns
Wilbert offers over 200 cremation urns, cremation urn vaults, and cremation products. Cremation offers many services, selections, and personalization options for creating the right memorial and tribute for you or a loved one. Many elegant cremation urns are available in wide-ranging styles and sizes constructed of solid-cast bronze, pewter, hardwoods, plastics, and other durable materials.
Wilbert Greenville

Cookout and Plant Tour
Wilbert Greenville recently hosted a family cookout for funeral directors who participated in an online ordering contest. Funeral directors enjoyed a plant tour and good food while catching up with friends in the industry. See pictures from this fun evening.